ABOUT AMETHYST: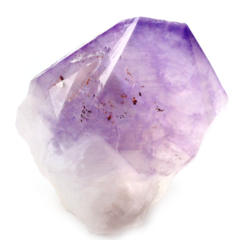 Amethyst is a powerful and protective stone: It guards against psychic attack, transmuting the energy into love and protecting the wearer from all types of harm, including geopathic or electromagnetic stress and ill wishes from others. Amethyst is a natural tranquilizer, it relieves stress and strain, soothes irritability, balances mood swings, dispels anger, rage, fear, and anxiety. Alleviates sadness and grief, and dissolves negativity.
Amethyst activates spiritual awareness: opens intuition and enhances psychic abilities. It has strong healing and cleansing powers. Amethyst encourages sobriety, having a sobering effect on overindulgence of alcohol, drugs or other addictions.
It calms and stimulates the mind, helping you become more focused, enhancing memory and improving motivation: Amethyst assists in remembering and understanding dreams. It relieves insomnia. It encourages selflessness and spiritual wisdom.
This stone can help you:
– Go deep within yourself
– Bring pleasure and enjoyment to your life
– Make the unconscious conscious
– Get in touch with buried issues before they explode
– Clear old energy/past lovers from the womb space
ABOUT PIXIU:
Pi Xiu is also known as Pi Yao. This is a powerful Chinese talisman to bring riches into the home or workplace.
Perhaps even more important is the notion that this creature will not permit wealth to leave the home or workplace.
Pi Xiu is especially popular among business people, investors and gamblers in Asia. It is regarded as a dominant attractor of money.
The Pixiu provides a minimum of six blessings as follows: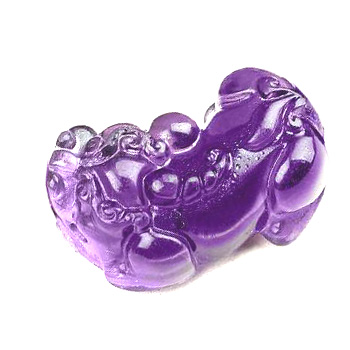 – Conducts good luck and fortune
– Generate good Feng Shui or earth luck
– Enhances wealth and riches
– Protects individuals and building
– Protects against evil forces, obstacles, and hardship
– Brings unexpected windfall luck
One of the popular ways to retain a Pixiu is to wear it on a bracelet.
Should I wear it on my left hand or right hand?
The Pixiu bracelet is best worn with the left hand, instead of the right hand, because it is believed that if you wear it on the left, it symbolizes attracting good wealth luck and if you wear it on the right, it is giving away your wealth to other people.
Where should I place it when I am not wearing it?
When you are sleeping, bathing or any other situation that you are not wearing it, you should place it in the living room, with the head facing towards the main door. Do not place it in your bedroom
Main Function: Attract Wealth, Abundance, Ward Off Evil Spirit, Bring Good Luck