Fengshui Pixiu Ring is a lucky charm that is popular all over the world.
Reason 1. Incantation Mantra
The Six True Words 'Om Mani Padme Hum' in the video?– are the most common mantra in Tibet. This mantra produces the sound and vibration which allows you to feel at one with the universe. The mantra is considered to have high spiritual and creative power.
Six True Words (Om Mani Padme Hum) Meaning:
Om means the vibration of the universe, symbolizes one's impure body, speech, and mind.
Ma Ni means the jewel, symbolizes factors of the method, compassion, and love, the altruistic intention to become enlightened.
Pad Me means lotus and symbolizes wisdom.
Hum means inseparability; symbolizing purity and can be achieved by the unity of method and wisdom.
This chant brings you joy and peaceful vibrations and supposedly, contained in this verse is the truth of the nature of suffering and how to remove its causes.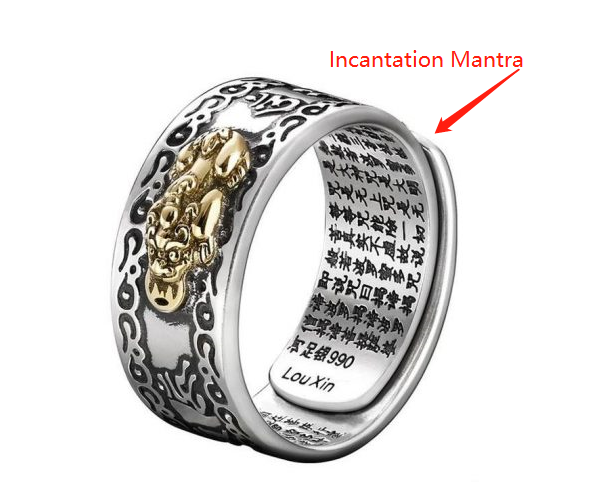 Reason 2. Pixiu can attract wealth and stay healthy. As long as you wear it for a long time, it will bring you good luck.
( What is Pixiu?
Pixiu is a Chinese mythical hybrid creature. It has a dragon head and lion's body along with a couple of feathered wings. It is known as a powerful protector amongst Feng Shui followers.
It is said to have an insatiable desire towards silver and gold. And that's why in Chinese traditions?Pixiu has always been considered as a creature capable of bringing wealth from all places.
Pi Yao is another name of Pixiu, one of the most potent protective feng shui symbols to attract wealth. The Pi Yao is believed to be faithful, obedient, and loyal. And that's why this creature gained so much popularity in feng shui traditions. )
Pi Xiu is especially popular among business people,investors and gamblers in Asia. It is regarded as a dominant attractor of money.

Reason 3. Feng Shui master gives mysterious power.This is very important. Without this step, Feng Shui will not be activated.
(Click on the video below to watch the ceremony)